Christmas Tree Stands available for all our Christmas Tree delivery customers.
If you are ordering a tree from us, we sell Christmas tree stands and holders. We can also prepare your christmas tree for the christmas tree stand too, such as the drilled hole necessary for the screw in versions.
Christmas Tree Stands for sale.
X-shape stable christmas tree stand.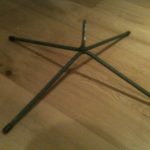 This stand is very stable and screws into the base of the tree. It can also useful if the floor is uneven or at a tilt as the tree can be corrected to a perfect vertical allignement, while remain perfectly still and stable for the whole festive season. This is our recommended christmas tree stand.
Price: €10
Water stands for christmas tree longevity.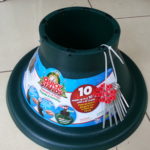 If you prefer we provide the water stands that keep christmas trees very fresh and are a great help to those trees in very hot environments.
Price: €28